Zoya Vyazovskaya
Baroque flute / Boehm flute / piano / Celtic Harp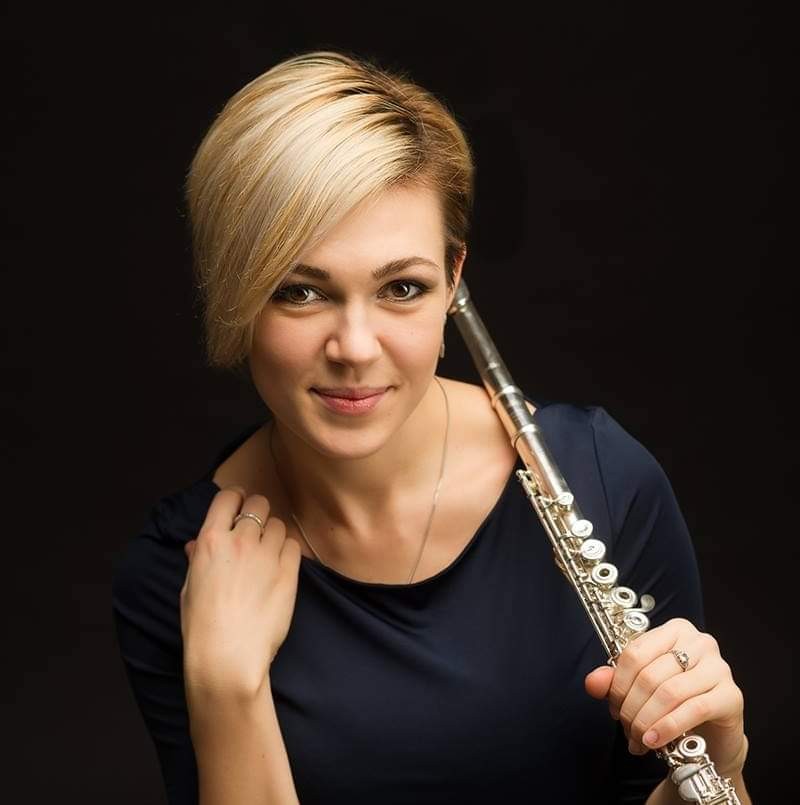 Zoya Vyazovskaya came to England to study at the Royal Academy of Music with maestro William (Wibb) Bennett, whose own long and illustrious playing career has helped make him a highly successful tutor of the up and coming stars. And he knows how to pick them, with some phenomenal young players emerging from his tutelage before launching onto the world stage.
Zoya is no exception. As a teenager, she performed in front of an international convention of flautists and left them slack-jawed in admiration of her technique. But, in parallel with the flute, she also chose to study the piano at the RAM under Colin Stone and somehow fitted in the harp to her busy itinerary. The original invitation to come and perform for NWA was tweaked to see if she was happy to include her other instruments as well, as this was such a unique opportunity to understand the depth of talent that Zoya embodies.
Now teaching in Moscow at the Gnessin Special Music School, she also dovetails in her own concert performances in Russia and abroad, mainly as a soloist but, in addition, as a member of the Classic Arts Ensemble. Wearing a different hat from another genre, she regularly plays with a stonking jazz band, the Black Square Quartet, with a very innovative sound and who have just had their first appearance on Russian television. NWA concert arranger, Andrew Forsyth, hopes to be able to bring them over for another season's appearance. On the chamber orchestra scene, she has guested with the Odense Symphony Orchestra, the Moscow Conservatoire Orchestra, the Meladina Ensemble, Musica Viva and her own festival orchestra "+1".
This driving musical energy is also behind her organising music festivals and competitions.
Her project "Great Flute Days" in cooperation with Galina Kuzennaya has become the largest flute event in Russia.
Its past guests have included Denis Bouriakov, Trevor Wye, Matthias Ziegler, Raffaele Trevisani, William Bennett and many others.
Her list of activities doesn't end there as she regularly holds masterclasses at home and further afield, such as at the William Bennett Summer School, British Flute Society convention, Croatian Flute Academy, the Richter Foundation Summer School and Ayvalik International Flute Academy in Turkey.
PROGRAMME
At the time of writing, the programme is fluid but will probably include:
Georg Philipp TELEMANN Fantasie no. 12 Baroque flute
Niccolo PAGANINI Caprices transcribed for solo flute
Zoya VYAZOVSKAYA Understanding solo flute
Trad Irish (improv.) Carrickfergus Celtic harp
Zoya VYAZOVSKAYA The light we bring Celtic harp
Trad.Irish Mrs McDermott Celtic harp
Trad Irish North Wind Celtic harp
Frederic CHOPIN Fantasie Impromptu Piano
Robert SCHUMANN At Night Piano
Sergei RACHMANINOV Piano
Nikolai MEDTNER Piano