The Solway Saxophone Quartet
Justin Kent (Soprano); Jane Bagot (Alto); Stephen Bagot (Tenor) Melanie Thorne (Baritone)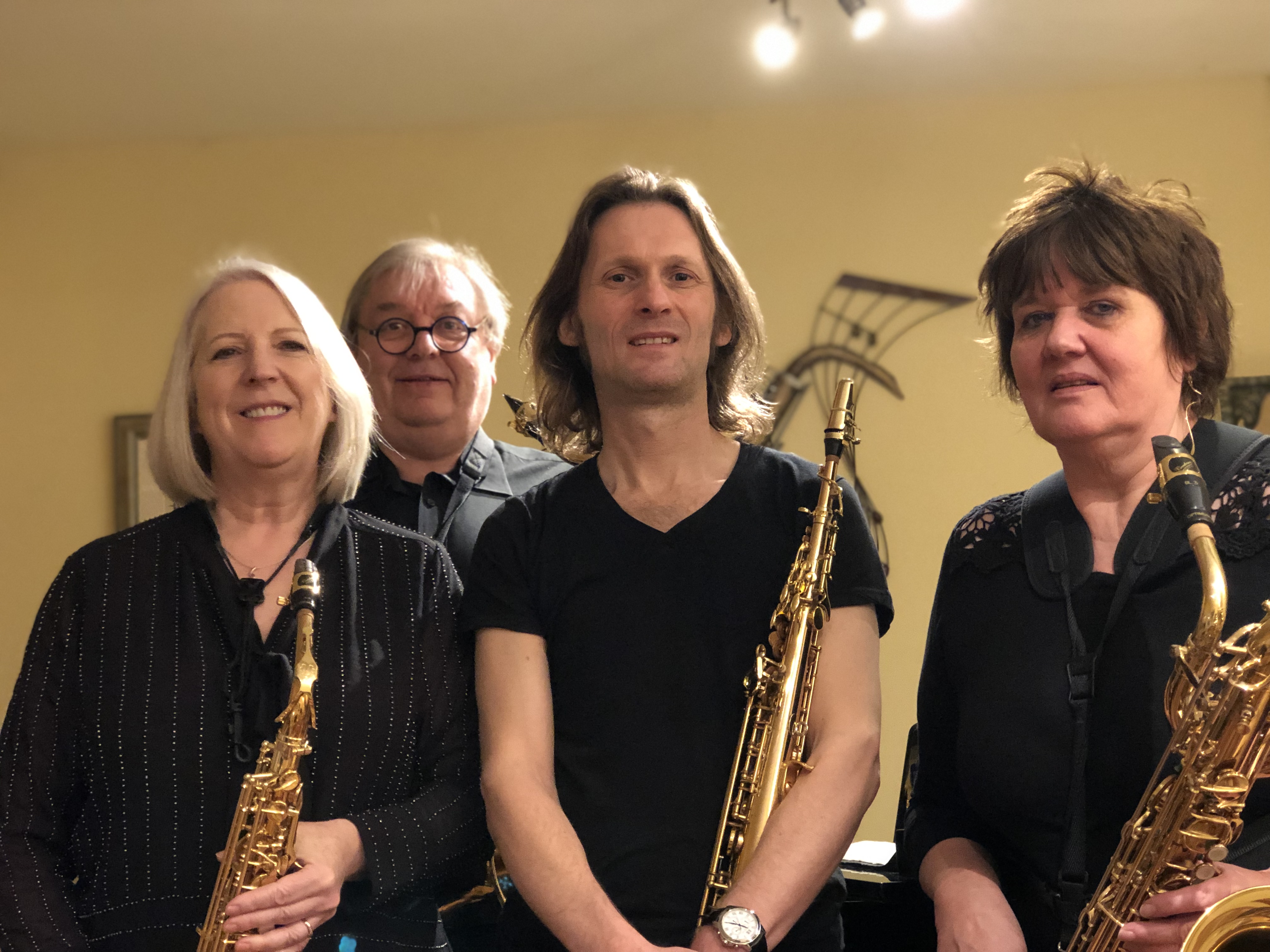 Soprano Saxophone: Justin Kent is a woodwind teacher, in demand as a saxophonist in a variety of jazz ensembles and bands, doubling on flute and clarinet in theatrical shows.
Alto Saxophone: Jane Bagot recently retired as Head of Music at QEGS, Penrith. She plays clarinet and saxophone in various ensembles including the British Clarinet Ensemble who give concerts in Britain and Europe.
Tenor Saxophone: Stephen Bagot plays clarinet, saxophone and bassoon in many ensembles and orchestras in the North as well as Bass clarinet and Contrabass clarinet with the British Clarinet Ensemble.
Baritone Saxophone: Melanie Thorne lives in Moniaive and teaches piano and woodwind. She is a Trinity College London Music examiner, and before the pandemic, examined in India, Sri Lanka and the Isle of Skye.
PROGRAMME
Allegro from Vespers Claudio Monteverdi
arr. Melanie Thorne
Grand Quatuor Concertant Jean-Baptiste Singelee
Second Waltz from Jazz Suite no.2 Dimitri Shostakovitch
Sevilla Isaac Albéniz
arr. Marcel Mule
The Trainee Bullfighter Christopher Frost
A Northern Folksong Suite arr. James Rae

1. Cock o' the North
2. Blow the Wind Southerly

3. Cushie Butterfield & Dance to thy Daddy
INTERVAL
Cinerama James Rae
1. Organ Interlude
2. Newsreel
Nuts! It's a Cracker Pyotr Tchaikowsky
1. Overture. 2. Sugar Plum-Around arr. Melanie Thorne
3. A-rab T-Dance 4. East meets West
Blues for an Autumn Night, That was one early Morning
Let's Call the Whole Thing off, Ain't Misbehavin' arr. Gordon Lewin
Rialto Ripples George Gershwin
arr. Melanie Thorne
Tea for Two (Cha-cha) Vincent Youmans
arr. John Whelan
I Got Rhythm George Gershwin
arr. Hans Dillo
's Bristol and Blackheath Halls.


Recent performances include appearances at the Salzburger Schlosskonzerte, Aldo Ciccolini Musical Association (Naples), Koscierzyna Chamber Music Festival (Poland), Pump Room (Bath), Chester Summer Music Festival, Hexham Abbey Festival of Music & Arts and various concert societies throughout the UK.

Their discography includes world-première recordings by

Krzysztof Meyer,

Algernon Ashton

and, most recently,

Stephen Dodgson. Published by Toccata Classics, their performances have been critically acclaimed in magazines such as The Strad, International Record Review, German Fono Forum and American Fanfare – where the Meyer album was selected as one of the five best CDs of 2009.

Contemporary music plays a central part in Evva and Emma's careers: they have performed vafor them and have given several world-premières including Two Romantic Pieces for Cello and Piano by Stephen Dodgson, Fable Fantaisiste by Graham Coatman, Numen by Piotr Grella Możejko and Blue Note by Weronika Ratusińska. /span